RIDEAU VIEWSCAPES


Viewscapes, what can be seen to and from the waters of the Rideau Canal, are one of the important values of the waterway. In this article I'm going to address two very significant aspects of the viewscape issue. I'll start with an excellent initiative on the part of Parks Canada to restore some of the heritage viewscapes. I'll follow that with a call to action regarding a deficiency on the Rideau, the protection of its general viewscapes.



HERITAGE VIEWSCAPES

I'm very pleased to see that Parks Canada has finally started to address a pet peeve of mine, heritage viewscapes. When I was writing "A History of the Rideau Lockstations" back in the late 1990s, I realized that I didn't remember ever seeing the defensible lockmaster's house at Upper Brewers lockstation, even though I had been to the lockstation several times. On my next trip I found it, hidden away by vegetation; you couldn't see the lockmaster's house from the lockstation and you couldn't see the lockstation from the house. Parks Canada had allowed this building to become obscured by vegetation, completely removing it from its historical context. The same was true for several other defensible lockmaster's houses such as those at Davis Lock and at Jones Falls.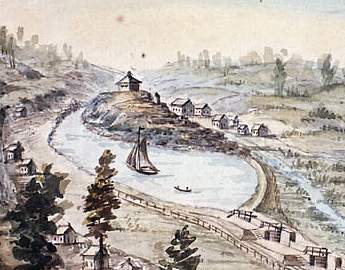 House with a View

The lockmaster's house on top of the knoll at Upper Brewers with a commanding view of the approaches to the lock. Cropped section from "No. 21 / Brewer's (Upper Mills) Locks" by John Burrows, c.1840s. Libraries and Archives Canada, 1979-12-21.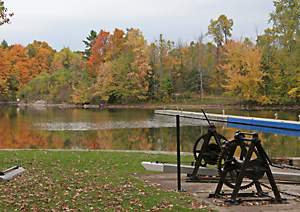 Where's the Lockmaster's House?

Can you spot the Locksmaster's House in this photo taken in October 2007 at the Upper Brewers Lockstation? Pay this lockstation a visit in 2008 and you'll clearly see it.


When these lockmaster's houses were built, they were placed on the height of land at the lockstation, which had been cleared of trees, providing an unobstructed view of both approaches to the lock. This was done for two reasons. One was for military defence – these buildings were built of stone, with gun slits, tin roofs and other defensive features. During the next rebellion or American invasion, one didn't want the enemy to be able to sneak up on these fortifications. The other was the fact that these were the living and working quarters for the Lockmaster, who required a clear view of both approaches to the lock to see traffic coming.

Unrestricted vegetation growth over the years has removed these building from their historical context. The heritage aspect of these buildings is not only the structures themselves, but their position on the landscape. We are fortunate on the Rideau, that, given proper heritage presentation, we can clearly understand today the role of these buildings. We don't need 3D models or artist's visualizations. Once the heritage viewscapes are restored, visitors to the site can see and understand for themselves the role of these buildings. It's not only important for the Rideau, but also important from a Canadian history perspective; these buildings tell a tale of our early years, of tangible worries about rebellion, war and invasion. Parks Canada has now started to put some of these buildings back into the proper heritage landscape.

Kudos go to Mary Ann Stienberg, Visitor Services Officer of the Rideau Canal Office of Parks Canada, for getting this project going. When I first approached Parks with this issue a few years ago, I got some sympathetic noises, but no action. I approached the issue again, a couple of years ago, as a potential Rideau Legacy project. Mary Ann fully recognized the heritage presentation rationale behind my request, but one of the difficulties at that time was that it had to be a Parks project since it was on Parks Canada land with all the various regulations and restrictions that entails.

In the fall of 2007, Mary Ann was put in charge of several Katimavik students who were to be used for outdoor work, and with this group of eager labour, went to Superintendent Gavin Liddy for permission to move ahead with the heritage viewscapes project. Kudos to Gavin for recognizing the importance of the request and for giving Mary Ann the green light. Kudos too, to the local lockmasters, and to acting southern sector supervisor Anne-Marie Johnson, for fully assisting with the project, including assessing the potential viewscapes and determining exactly what should be done.



Heritage Viewscapes for 2008

This project has already started at several of the southern Rideau lockstations, specifically Upper Brewers, Davis, Jones Falls and Newboro. Note that Parks Canada is not taking these places back to their original landscape (which was generally devoid of trees) – but rather opening up selected viewscapes so that visitors can see and understand the role of the building's position on the landscape. As a bonus, these new viewscapes are going to vastly improve the visitor experience to these lockstations by providing many great photo opportunities to and from these buildings.

In addition to the newly opened viewscapes, Parks Canada is putting policies and guidelines in place at these lockstations to maintain these viewscapes so that we don't have to repeat this exercise in 25 years.

There are more sites that should be assessed and cleared, but this is a very good start. Oh, and more kudos to Mary Ann Stienberg who is planning to add interpretive signage to these sites (yeah!! - I'm a big fan of interpretive signage).

For more on this and to see some before and after colour photos, visit: www.rideau-info.com/canal/articles/ (click on the Heritage Viewscapes link)



PRESENT DAY RIDEAU VIEWSCAPES


When the Rideau Canal was being evaluated as a World Heritage Site, there was an on-site evaluation done by ICOMOS (International Council on Monuments and Sites). The evaluation was primarily to make sure that what was stated in the nomination document was true, particularly with regards to management and regulations governing the proposed World Heritage Site and buffer zone. Parks Canada, as the custodian of the Rideau Canal World Heritage Site, has an obligation to fulfill the requirements of World Heritage Site designation. While ICOMOS found that the Rideau had excellent environmental protection, both in terms of management and regulations, it noted a deficiency in the protection of viewscapes.

To quote from their evaluation document: "ICOMOS considers that the visual setting of the canal needs clearer identification and where appropriate tighter controls to protect identified vistas and the background to key features of the canal, which needs protection. The current arrangement which allows development only if it does not cause environmental damage could be strengthened to include constraints against development that might cause damage to the visual setting of the canal."

At the time of nomination, Parks Canada noted to ICOMOS that two small studies were underway regarding viewscapes, but ICOMOS wanted to see more done: "ICOMOS considers that the proposed study of vistas should be extended to identify the visual setting of the canal along its length and on the basis of this, consideration should be given to extending protection to those areas which contribute to the quality and understanding of the canal in its setting."

To that end, the planner for the Eastern Ontario Field Unit of Parks Canada has been tasked with coming up with a solution. This is no small job. Firstly, what are appropriate visual settings along the canal? Your values regarding visual settings might be different than mine. And, once defined, how do you protect them? Given the 202 km length of the Rideau, and the various types of landscapes (urban, rural, recreational, natural) that it runs through, there are clearly going to have to be different solutions for various sections. What might be appropriate for Manotick probably won't be appropriate for Opinicon Lake.

Another problem is regulation. With the environment, values such as water quality can be quantified and measured. Regulations can (and have) been put in place based on these. Visual values aren't quantitative, they can't be directly measured. But, as evidenced in other jurisdictions, consensus agreement regarding what is appropriate and what is not can be arrived at. Once those are established, municipalities can enact regulations to protect these visual values. There are mechanisms to do this that have already been implemented in other municipalities in Ontario, we don't have to re-invent the wheel here on the Rideau.

It appears that Parks Canada plans to do a large scale study that will attempt to define the visual values of the Rideau Canal. This will involve extensive public consultation. We hope to learn more about this initiative in the next few months.

To read the ICOMOS report in full, head over to: whc.unesco.org/en/list/1221/, go into the documents section and download the document titled "Advisory Body Recommendation" (a 4 Mb PDF file). It makes for an interesting read.


- Ken Watson